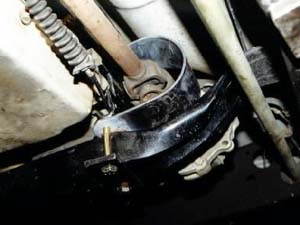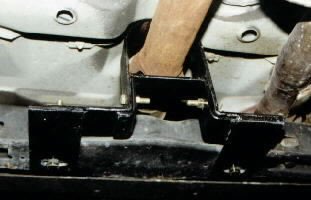 Our AWD systems are weak compared to the forces the motor puts on them. And, of course, from time to time parts break. Unfortunately the front propshaft is a weak point, especially after years of wear and hard launches.
The Front Prop Shaft Loop is a bolt on safety device that installs on most trucks in about 20 minutes. It is a mandrel bent and MIG welded devices that bolts to the transmission crossmember. It will help retain the prop shaft if it breaks in the double cardin joint. Its quite possible that the double cardin joint could break. Allowing the shaft to rotate wildly, ripping open the floor of the cab, damaging the transmission housing, and taking whatever else it can find in the area around it.
Here's a word from Phil Chivers, creator of the these loops:
I've changed the design on both loops some. A little lighter, just as strong. Includes hardware and installations instructions. (25 minutes for the front, 15 minutes for the rear....on a lift or jackstands). Built in some adjustments for those factory "differences."
Phil Chivers
3933 Cloudcrest Drive
Plano TX 75074